Introducing Dulle-gil
"Bucheon Dulle-gil" was created to be a themed walkway by connecting Bucheon's mountains, parks, fields and streams into a single path, providing a place for citizens to form communities.
1503, 401, Bucheon Techno Park, 655, Pyeongcheon-ro, Bucheon-si, Gyeonggi-do, Republic of Korea
Establishing a distinctive Dulle-gil by combining walking and bike riding, "fun and joy"
Maximizing effect of Dulle-gil by forming a network with Neumnae-gil of Siheung
Forming various citizen-participating communities such as companies, clubs, etc. for operational control
Details by course
Details by course
Name of path
(Theme name)
Distance
(km)
Time it takes
(hr)
Path of movement
Remarks
Total
42
5 courses
Local Relic Forest Trail
9
4
Gogang Prehistoric Relics Park→Bucheon Botanical Garden→Wonmisan Mountain→Sosa Station
Course 1
Forest Therapy Trail
7
3
Seoul Theological University→Hau Pass→Mari Pass→Seongju Middle School→Songnae Station
Course 2
Trail along the Water
6
2.5
Citizen's River→Lake Park→Manhwa Contents Agency →Gulpocheon
Course 3
Golden Field Trail
13
3.5
Bongo-daero→Daejang Field→Ojeong Grand Park→ Stele for Byeon Jong-in
Course 4
Nuri Trail
7
3
Bereunecheon→Pottery Museum→Million Rose Garden→Agijangsu Rock→Wonmisan Mountain
Course 5
Comprehensive Map of Bucheon Dulle-gil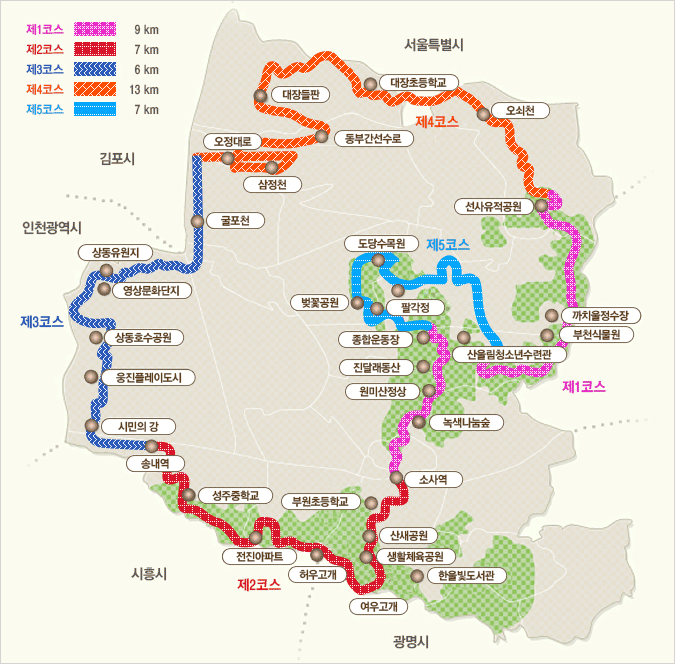 Invitations to companies, groups and clubs to participate in "1 trail protected by 1 group" in Bucheon Dulle-gil
What is "1 trail protected by 1 group"?
A sponsorship activity in which each of the companies, groups and clubs takes care of their own trails for environmental preservation of Bucheon Dulle-gil
For : Companies, groups and clubs
Location : Bucheon Dulle-gil (area to manage will be assigned based on sponsorship scale, number of people and activities of the participating group)
Details of activity :Organizing trails, cleaning forest environment, preservation and monitoring of nature, etc.
Other :Assigning community service hours, supporting management materials
Contact :Forest Team, Green Belt Division, Park Project Group, Bucheon City Hall (Tel: 032-625-3576)