Supported agency: Ceramic Technology Center (Korea Institute of Ceramic Engineering & Technology)
What is the ceramics industry?
As a type of material that maximizes its special functions, ceramics is a core material development industry that forms the basis of many national key industries such as fiber, machinery, automotive, shipbuilding, electrical, electronics, smart vehicles, next-generation semiconductor displays, secondarybatteries, robotics, aerospace and advanced biotechnology.
Business areas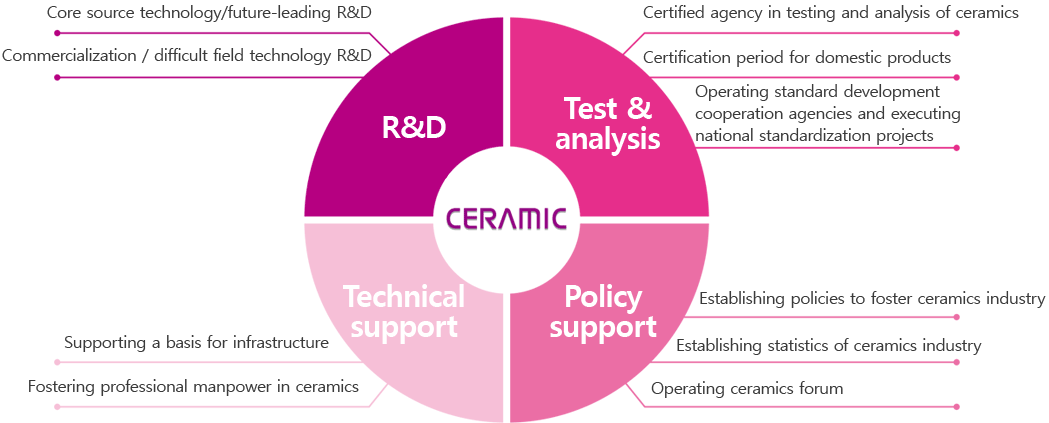 R&D
Core source technology/future-leading R&D
Commercialization / difficult field technology R&D
Test &analysis
Certified agency in testing and analysis of ceramics
Certification period for domestic products
Operating standard development cooperation agencies and executing national standardization projects
Technical support
Supporting a basis for infrastructure
Fostering professional manpower in ceramics
Policy support
Establishing policies to foster ceramics industry
Establishing statistics of ceramics industry
Operating ceramics forum
Major industries
1. Testing by Korea Institute of Ceramic Engineering & Technology and designated areas
Area of fine chemistry
Analyzing components of ceramics products
Product development and component analysis on unknown chemical substances
Organic material analysis
Environmental area
Analysis of international environmental regulation substances (RoHS, REACH SVHC, PoHS, ELV, WEEK)
Analysis of PCBs, environmentally harmful substances, brominated flame retardants, phthalate, etc.
Asbestos analysis
Analysis of harmful substances in products
Solid properties
Compressive strength, tensile strength, specific thermal conductivity, density
Measuring far-infrared radiation
KOLAS/KAS certified testing agency: No. 128, Korean Agency for Technology & Standards, Ministry of Trade, Industry and Energy
Cooperation Organization for Standards Development (COSD): Ceramics industry, Korean Agency for Technology & Standards, Ministry of Trade, Industry and Energy
Agency designated for asbestos analysis: No. 2012-120002, designated by Ministry of Employment and Labor
EcoLab designation: Designated Samsung Electronics, LG Electronics and KEA
Material evaluation area
Analysis of iron, nonferrous metals, jewelry and minerals
Analysis of inorganic chemicals and organic materials
Analysis of cement, glass and pottery
Material evaluation in strength, specific gravity, particle size and far infrared rays
Fine structure area
FIB, XPS, HR-TEM, EPMA, FE-SEM, AFM, XRD, surface analysis
Electromagnetic area
Analysis of electrical characteristics
Permittivity, volume resistivity, withstand voltage, temperature resistance
Optical properties
Area of reliability in far-infrared radiation measurements (failure tests, performance tests)
2. Commercialization tailored to company foundation and supporting packages for company foundation
Supporting finances, mentoring by industry experts and item reinforcements with an aim at increasing sales of companies that are 3 years old or younger or 3-7 years old with great potential for commercialization
Seeking increase in sales and global expansion through investments and overseas export
3. Consortium for HRD Ability Magnified Program
Providing device training support tailored to each ceramics site for current and future employees as a part of an effort to enhance the competency of field personnel in ceramics and foster future talents
Simultaneously conducting professional theory lectures and exercises, utilizing the latest equipment, with entire expenses paid by government expenditure
Setting up 50 kinds of new, advanced equipment to be utilized in students' practice
4. Test bed (Ceramic materials center)
Organizing lines for process and evaluation devices in each step of ceramics processing, designing optimum and customized processes, understanding issues in application to products through various testing on processes and materials in each step, providing customized commercialization materials through feedback system
5. Technology transfer
From the proprietary technology owned by Korea Institute of Ceramic Engineering and Technology to technology that can be applied to industries, transferring various research and development results to companies to support commercialization of the developed technology
Through a cooperation program with relevant agencies, transferring technology tailored to each client and supporting commercialization of technology
Hosting information sessions, etc. on technology commercialization for smooth connection between supplying of technology and companies in demand
Establishing 50 types of new advanced devices that can be utilized in students' practice
6. Ceramic fiber commercialization center
Establishing a foundation for mass production and commercialization of ceramic fiber
Fostering expert companies in ceramic fiber through business support innovation system
7. Technical support
Testing analysis fee assistance project for companies established in Bucheon area
For : Companies with worksites (headquarters or factories) established in Bucheon area (limited to cases in which testing analysis are requested to Korea Institute of Ceramic Engineering and Technology Bucheon Branch)
Details : 50% of the total fees required for each test item to be supported (indirect expenses of testing fees including general fees, postage, surtax, payment fees, etc. are excluded from the list of items supported)
Payment limit : 3,000,000 KRW annually for each company
Payment method : After an applicant company requests for a testing analysis to be performed by a testing analysis agency and pays the required fees, the foundation subsequently reimburses the necessary amount > Establishing free transport system for local companies in need of testing analyses (planned in 2017)
Tel : 032-210-5110/5114, Fax: 032-210-5115
Bucheon planning to set up a program to support promising businesses in the region in 2017
Preparing the means to increase sales of local businesses and recruit new manpower in a joint effort with the city of Bucheon
Supporting expenses for process improvement, product improvement, product design, reliability and testing analysis
Dispatching 1 professional personnel for each company to solve its difficulties and complaints
Open invitation in early 2017
Contact : 032-210-5107/5104
Operating Korea Institute of Ceramic Engineering and Technology employee system
30% discount on testing fees (signup fee: 400,000 KRW/year)
Providing technical information at no cost, assistance in discovering star companies
R&D support and free on-site technical guidance (business trip expenses to be paid by a member company)
Signup procedure : Membership inquiry -> Consultation -> Submit membership application -> Pay signup fee -> membership ID issued
Tel : 032-210-5110/5114., Fax: 032-210-5115
Common research equipment utilization support project
Supporting advanced, expensive research equipment and software, owned by Korea Institute of Ceramic Engineering and Technology, for R&D of small and medium-sized companies, which improves utilization of state-owned machines and establishes a basis for small and medium companies to improve their technical competitiveness, supporting testing and research equipment as well as software that Korea Institute of Ceramic Engineering & Technology owns to help small and medium companies deduce necessary results
Scope of support: Supported in the form of online vouchers (coupons) up to 30,000,000 KRW, within 60 to 70% of the total fee needed for the use of R&D equipment
Scope of support detail form

| Category | Development period | Percentage of government expenditure | Remarks |
| --- | --- | --- | --- |
| Start-up companies | 1 year | Within 70%, up to 3,000,000 KRW | Company history shorter than 7 years |
| General companies | 1 year | Within 60%, up to 3,000,000 KRW | Company history exceeding 7 years |
Qualification to apply : Small or medium-sized company
Supervised agency : Korea Institute of Ceramic Engineering and Technology, Person in charge : 032-210-5105
Managing agency : Korea Association of University, Research Institute and Industry(042-720-3344~5)
Network setup and consulting provision project for companies established in Bucheon area (planned in 2017)
Constructing and operating websites exclusively for ceramics companies in Bucheon (business and expert registration, business announcement, technical consulting Q&A, company PR, etc.)
Network of companies and experts (brain pool, connection to government projects, regular exchange sessions, etc.)
Customized company support (technical obstacle elimination project, consulting assistance, etc.)
Increasing Bucheon-based companies' participation in government projects and mid- to large-scale consortium projects(government projects supervised by, for example, Ministry of SMEs and Startups, Ministry of Trade, Industry and Energy, Ministry of Science and ICT, energy projects and Ministry of Environment)Contact : 032-210-5107/5104