Supported agency: Intelligent Robotics Research Center
(Korea Electronics Technology Institute, Bucheon Industry Promotion Foundation)
What is the robotics industry?
An industry that manufactures, sells and develops intelligent robots and robotic parts, a major industry that forms the foundation of the 4th industry including autonomous-driving vehicles, drones, artificial intelligence, etc.
Business areas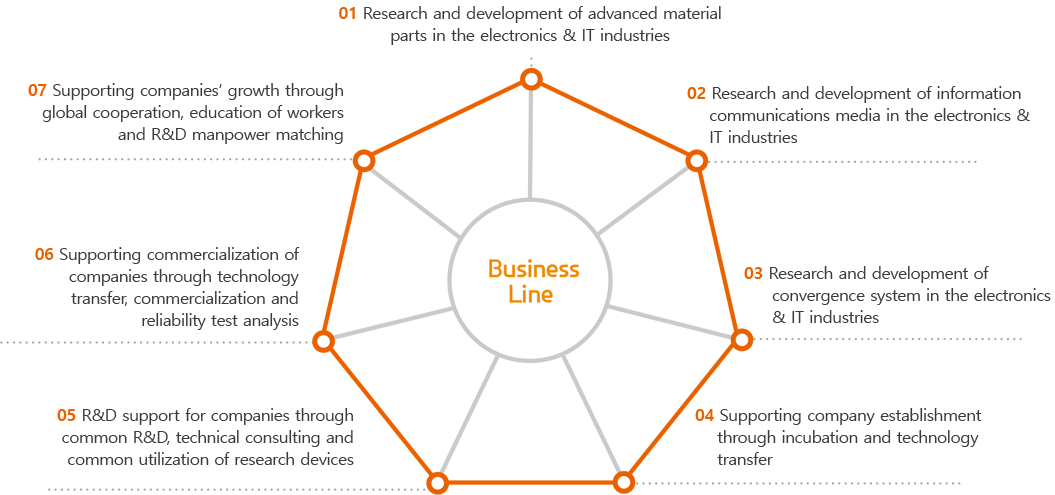 01 Research and development of advanced material parts in the electronics & IT industries
02 Research and development of information communications media in the electronics &IT industries
03 Research and development of convergence system in the electronics & IT industries
04 Supporting company establishment through incubation and technology transfer
05 R&D support for companies through common R&D, technical consulting and common utilization of research devices
06 Supporting commercialization of companies through technology transfer, commercialization and reliability test analysis
07 Supporting companies' growth through global cooperation, education of workers and R&D manpower matching
Major tasks
1. Common technical development
Developing technology needed by companies by participating in government-led R&D projects and consignment projects
Major agencies
Ministry of Science, ICT & Future Planning
Ministry of Trade, Industry and Energy
Ministry of SMEs and Startups
Major technical areas for each research division
Advanced material part area
ICT device and packaging, display material parts convergence electronic materials, next-generation batteries, smart center, nano material parts, reliability technology, etc.
Information communications media area
Smart media, VR and AR, smart network, contents application, mobility platform, intelligent image processing technology, etc.
Convergence system area
IoT platform, embedded SW, SoC platform, energy IT convergence, human care system, intelligent mechatronics and intelligent robotics technology, etc.
2. Supporting technology transfer and commercialization
Transfers various core technology owned by KETI through research and development to companies, and supports commercialization of transferred technology
Online search function on "Technology Transfer" page on the right side of KETI website (www.keti.re.kr)
Possible to search and browse technology to be transferred and commercialized for each theme (IoT, smart cars, drones, robots, etc.) and industry (electronics and electricity, automobile, material parts, etc.)
3. Consultation on technical difficulties
Support resolution of technical difficulties for companies through professional consulting and expert matching, etc. by utilizing KETI's research manpower with masters' and doctors' degrees
Possible to request online through "Request Consulting on Technical Difficulties" on KETI website (www.keti.re.kr) (www.keti.re.kr -> Company Collaboration Platform -> Click "Request Consulting on Technical Difficulties")
Consulting process
Request Consulting on Technical Difficulties
Confirm possibility
Researcher matching
Execute consulting
4. Support research devices
Provides services such as testing and analysis by preparing a joint utilization system to utilize highly expensive research facilities and machines that small and medium companies cannot easily own
Devices in possession
2,232 types of machines in possession including basic optical device, compound analysis device, engineering fabrication and testing device, electricity and electronics measuring device, physical characteristics analysis device, etc.
For detailed information on devices in possession, refer to KETI website
Corporate cooperation platform -> Research equipment support -> Search and apply to use devices in possession
Bucheon Mechatronics Research Group
Possesses about 200 types of equipment related to precision motors, mechatronics and robots, and supports necessary tests
30% discount in device usage fee applied for Bucheon-based companies
Contact regarding tests: Device Operations Team (032-621-2872, changi4@keti.re.kr)
5. Employee education
KETI is an operating agency of "national human resources development consortium" and conducts work training to improve the overall level of competency of current employees working for companies in the area of IT convergence systems.
Subject to education: Employees currently paying employment insurance fees
Participation fee: Free (textbooks and lunch provided). However, employees not registered under any consortium cooperation company may enroll in the education after going through a simple agreement procedure.
Condition for completion: Certificate of completion may be issued if more than 80% of the training is completed.
Application for participation and details: Refer to website http://ittcketi.re.kr
Contact: KETI Company Growth Support Team (Tel. 031-789-7647, nova@keti.re.kr)
2017 education curriculum
28 courses in total, including motor drive inverter design and control technology, permanent magnet motor design technology, etc.
6. Operating robot convergence part support center
Establishing and operating a one-stop support system to reinforce competency of small and medium robot parts manufacturers by establishing a foundation for robot parts industry as well as necessary equipment to secure the competitiveness of the domestic robotics industry.
Project name: Robot convergence part advancement foundation establishment project (2014.09 ~ 2019.08)
Participating agency: Bucheon Industry Promotion Foundation
Participating local government: City of Bucheon, Gyeonggi-do
Location of center: 655, Pyeongcheon-ro, Bucheon Bucheon Technopark Complex 401 #1402-1
Major details of activities
Operating the support center space to periodically assist small and medium robot parts manufacturers
Establishing testing devices to secure performance and reliability of robot parts
Certifying and supporting tests of robot parts by utilizing equipment for commercialization of robot parts
Supporting commercialization by utilizing equipment and performance assessment system to aid small and medium robot parts manufacturers
Establishing a network between robot parts manufacturers and system companies as well as supporting its commercialization